Personalized Care for your Feline Friend
Cats can sometimes come off as being independent and self-sufficient. But they look to their humans for not only food, but love, comfort and companionship as well. So when you're away – whether it's for a week or a day – it can create stress and boredom for your feline friend.
With our expert cat sitting services, we'll make sure your kitty has everything she needs to be healthy and happy while you're gone. Our services are tailored to accommodate your cat's personality, quirks and needs. So whether your kitty craves extra playtime, lives for lots of affection or just wants to be left alone, you can rest assured that we'll pamper your pet just like you would.
Depending on your needs, our services can include:
Feeding meals/refilling water bowls
Administering medication
Cleaning the litter box
Playtime
Overnight stays
Turning lights on and off
Watering the plants
Bringing in the mail
Lots of love, affection and attention
Get started by setting up an in-home consultation. Contact us today to make an appointment.
Cat Sitting Services + Rates
We make cat sitting easy and affordable! Every client is unique. Rates are discussed at your in-home consultation. If you have a special request, just ask.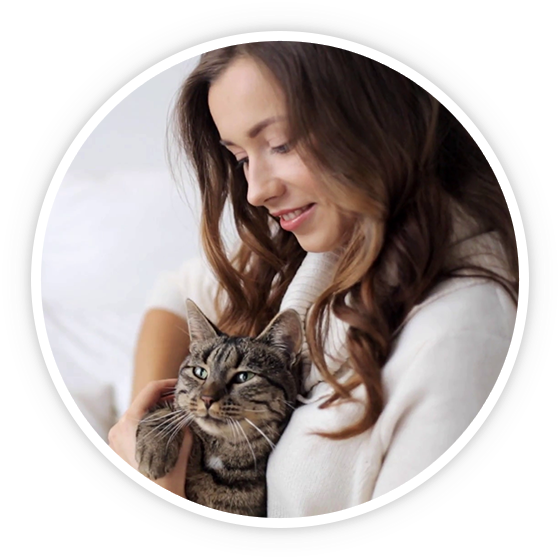 "Whether it is watching T.V. with Casey, wrestling with Justin or making new friends with people in the neighborhood on one of Jennifer's afternoon leisure walks (if we called it exercise Rocky wouldn't do it) he is thoroughly enjoying himself! I may be leaving on business-but when Jen and her team arrive it is always a special treat for Rock."
Marc & Rocky
Additional Services
Short Notice
We are happy to take last minute requests! There is a $10 administrative fee added to any visit that is booked with less than 48 hours notice.
Supply Pick Up
If you run out of supplies while your pets are under our care, we will pick them up for you. You will be charged the cost of the supplies plus a $12 fee.
Key Copy
For Your Spot requires two sets of keys, unless you are utilizing a lock box, which will be picked up at your Client Meeting at no charge. If only one key is provided, we will make a second copy for a $5.00 fee which will be added to your first invoice.
Key pick up/return
For Your Spot retains all client keys. However, if you wish for us to pick up and return your keys each time you schedule an appointment, we do offer a Key Pick Up and Key Return Service which you will need to schedule at the time you book. We will not lock keys inside your home. Clients who do not allow us to retain their keys are responsible for ensuring we have a Key Pick Up Service scheduled before their appointment begins. Any locksmith charges incurred due to For Your Spot not having a key at the beginning of the appointment will be billed to the client. There is a $12 charge for each occurrence of the Key Pick Up or Drop Off Service, and client's must give the office at least two weeks notice when scheduling either of these services. Again, we highly recommend utilizing a lock box if you do not wish for us to retain your keys for future or emergency visits.
Holiday Surcharge
There is a $10 holiday surcharge ($30 for overnights) added to each visit.